Free Water Testing Kits Available
Resources for Those Impacted by the Flood
Apply for Assistance with FEMA here:
State of Vermont Resource Website here: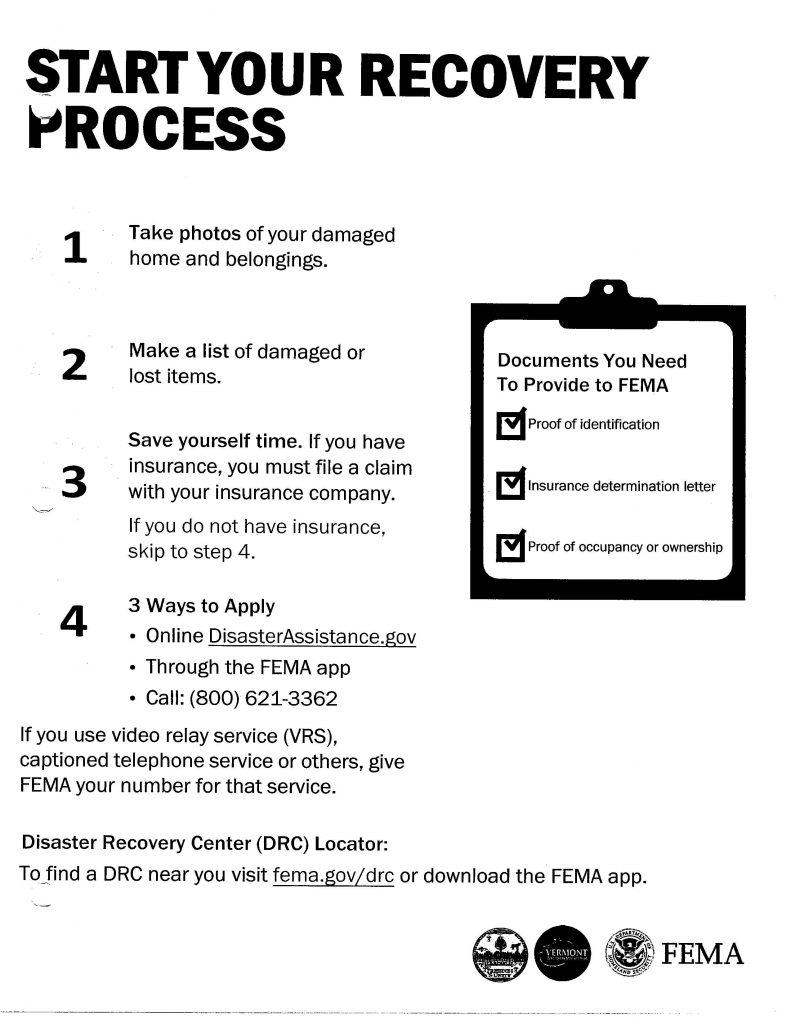 You can get more information and register at www.DisasterAssistance.gov or call 1-800-621-3362.

Individuals who suffered losses in the storm should continue clean up and repairs, taking photos and documenting expenses. You should also report that damage to Vermont 211, either by dialing 2-1-1 or by visiting vermont211.org. This data informs the disaster assessment and allows FEMA to reach out to applicants directly.

CLICK BELOW FOR ADDITION INFO FROM FEMA
Insurance Guidelines/Resources for Those Affected by Floods
Consumer Advisory: July 16, 2023
Insurance Guidelines/Resources for Those Affected by Floods
Montpelier, VT – The Vermont Department of Financial Regulation provides the
following important flood insurance resources for those impacted by the flood.
For individuals or businesses with flood insurance, the first step is to determine
if your coverage is provided by a private insurer or through the National Flood
Insurance Program (NFIP). Check your policy or contact your agent if you are
unsure.
If you are covered by the NFIP, please see this site to file a claim.
If you are covered by private flood insurance, contact your agent or the
insurance company to file a claim.
For individuals or businesses without flood insurance, please be aware that most
Homeowners and Commercial Property policies do not provide coverage for
losses due to flooding. However, you should contact your agent or insurance
company to verify your coverage. You should also file a claim as you will likely
need a denial from your insurer to apply for federal disaster assistance. For
information on disaster assistance, please refer to FEMA FloodSmart.gov.
If your vehicle sustained storm or water damage, coverage may be available
through your auto insurance policy. Please contact your agent or insurer to
report the loss.
For information on documenting damage and clean up, please see this FEMA
site.
For information on mold remediation after flooding, please refer to this EPA
webpage.
For information on health concerns, please visit the VT Department of Health.
General Resources
State of Vermont Flood Resources
If you have questions, please contact Consumer Services at 800-964-1784 or
dfr.InsuranceInfo@vermont.gov.
Flood Relief Update: July 18, 2023
Dear Central Vermont Business Community,
Low-interest disaster loans from the U.S. Small Business Administration are available to businesses and residents in Vermont following the announcement of a Presidential disaster declaration due to damages from severe storms and flooding that began on July 7.The online application is available here.

SBA Business Recovery Centers (BRCs) will open on Tuesday, July 18 at 8 a.m., at the Vermont Chamber of Commerce in Berlin. SBA Customer Service Representatives at the Center will assist business owners and residents in filling out a disaster loan application, accept documents for existing applications, and provide updates on an application's status. The center will operate as indicated below until further notice:

Business Recovery Center Washington County
Vermont Chamber of Commerce
751 Granger Road
Berlin, VT 05641
Opening: Tuesday, July 18, 8 a.m. to 5 p.m.
Hours: Monday to Saturday, 8 a.m. to 5 p.m.
Closed: Sunday
If you have questions about these loans, please contact our office.Sincerely,
Melissa Bounty, Executive Director
SBA Offers Assistance In VT For Flooding
Disaster Field Operations Center East
Release Date: July 17, 2023
Contact: Michael Lampton (404) 331-0333 Michael.Lampton@sba.gov
Business Recovery Center Washington County
Vermont Chamber of Commerce
751 Granger Road
Berlin, VT 05641
Opening: Tuesday, July 18, 8 a.m. to 5 p.m.
Hours: Monday to Saturday, 8 a.m. to 5 p.m.
Closed: Sunday
The filing deadline to return applications for physical property damage is Sept. 12, 2023. The deadline to return economic injury applications is April 15, 2024.
ATTENTION ROAD CLOSURES AND CONDITIONS IN WORCESTER
AUGUST 10- Calais Road is expected to be rough and uneven while repairs are being made. DRIVE WITH CAUTION.
Conditions will likely continue to deteriorate, even long after the heavy rains ease. Road Crew and Emergency Management personnel are taxed to the limit right now, and the less traffic on the roads, the sooner and safer they can return our roads to passable condition.
THE TOWN OF WORCESTER HAS REACHED OUT AND IS WORKING WITH AOT, TO USE ALL RESOURCES AVAILABLE TO MAKE THE NECESSARY REPAIRS TO THESE ROADS AND TO REOPEN THEM AS SOON AS POSSIBLE.
PLEASE BE VIGILANT OF ALL TOWN ROADS AS WASHOUTS COULD OCCUR IN THE COMING DAYS. AS ALWAYS, PLEASE BE AWARE OF TOWN HIGHWAY CREW WORKING ON ALL ROADS ALONG WITH HEAVY EQUIPMENT BEING USED.
ANY QUESTIONS OR CONCERNS PLEASE CONTACT MIKE UTTON AT THE HIGHWAY GARAGE 802-223-6903
Business Hours
Town Clerk/Treasurer/Delinquent Tax Collector's regular office hours:
Monday: 12:00 pm – 7:00 pm
Tuesday: 9:00 am – 5:00 pm
Wednesday: 8:00 am – 4:00 pm
Thursday: 9:00 am – 5:00 pm
Friday: Closed to the Public
The Listers' NEW office hours are Mondays 9:00 am – 1:00 pm
Location
The Worcester Town Complex is located at 20 Worcester Village Road, Worcester, Vermont 05682. The Complex is home to the Town Clerk/Treasurer's Office, the Delinquent Tax Collector's office, the Volunteer Fire Department and the Listers' Office. The Town mailing address is P.O. Box 161, Worcester, VT 05682
The Highway Department is located at 11 Maxham Drive.
The Worcester Town Complex phone number is (802) 223-6942
The Fax number is 802-229-5216
Katie Miller– Treasurer & Delinquent Tax Collector
worcestertreasurervt@gmail.com
Jennifer LeStat, Town Clerk
Clerk email- worcestertownclerk@gmail.com

Listers' Office-Extension 1 (802-223-6942)
Will Sutton Fire Chief/Fire Warden, 802-557-1037 Mike Utton, Road Commissioner 802-223-6903

Dog Licenses
All dogs must be licensed on or before April 1st every year. If registering after 4/1, there is a late fee. Dogs must also have a current rabies certificate.
FEES: Neutered/Spayed 9.00$ late –> 11.00
Not Neutered or Spayed 13.00$ –>late 17.00$
If you would like your dog tag and receipt/license sent to you in the mail, please include a self addressed and stamped envelope. (SASE).
Search Land Records, Lister Cards, Tax Bills
We have 40 years of land records available now online!
The link below will take you to the current land record files available.
This link will let you access current redacted tax bills and lister cards.
There is a 2.00 charge to remove the watermark and print the document.
For additional listings and contact information, please see the full Directory.